Item Details
Subjects:
Genre:
ISBN:
9780812550702
9780765378484
9780765370624
9780765342294
9780765337542
9780765337320
9780765335708
0812589041
0812550706
0765378485
076537062X
0765342294
0765337541
0765337320
0312932081
0312853238
Edition: Second Tor Teen edition.
Description: 380 pages ; 21 cm
Notes:
"A Tom Doherty Associates book."
"Now a major motion picture"--Cover.
Originally published: 1977.
Link to PAC
Other Items In This Series
Six-year-old Ender Wiggin and his fellow students at Battle School are being tested and trained t…
Ender Wiggin, the young military genius, discovers that a second alien war is inevitable and that…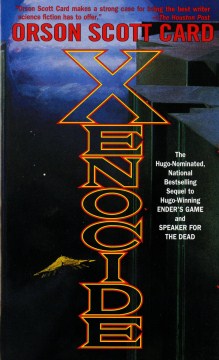 On Lusitania, Ender found a world where humans and pequeninos and the Hive Queen could all live t…
In the conclusion of the Ender saga, Ender Wiggin confronts his ultimate challenge when his adopt…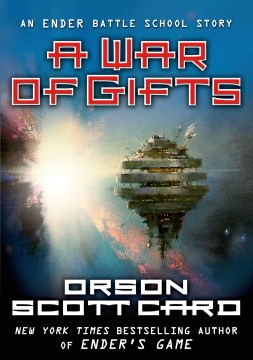 Chaos erupts at Battle School when a student places a gift in another student's shoe on Sinterkla…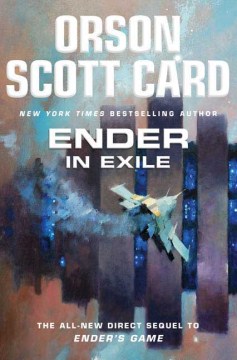 Having made the difficult choice to leave his home world to travel to the colonies, twelve-year-o…
In "The Polish boy", Ender's father, as a child, has a chance to end the persecution that his par…
The Wheel of Time books and the Ender Wiggin books portray young heroes responsible for saving the world through an impossible quest. While the first is Fantasy and the second is Science Fiction, the similar themes and characterizations might bring readers of each series to enjoy the other. -- Rebecca Sigmon
These imaginative and gripping science fiction series offer thrilling tales of super soldiers and military conflict while simultaneously exploring the moral implications of governmental corruption, casualties of war, and the exploitation of children as soldiers. -- Derek Keyser
Aliens with superior technology won't necessarily have a superior ethical structure. They may be monstrous creatures intent upon enslaving Earth and other planets. Humanity will have to fight back. These fast-paced, world-building novels show you what happens when we do. -- Mike Nilsson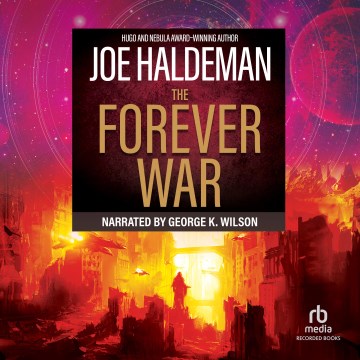 Featuring reluctant warrior-heroes who must make great personal sacrifices to ensure humanity's victory in interstellar conflicts, these dramatic, thought-provoking science fiction series examine the many ethical issues surrounding war, including the welfare of soldiers and the military applications of technology. -- Gillian Speace
Beginning as detailed military science fiction, these series develop into a reflection on the morality of war and genocide, and the difficulty of finding peace between very different peoples. These series follow numerous dynamic characters over a sweeping time frame. -- Kaitlyn Moore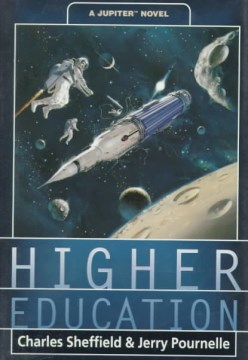 These fast-paced hard science fiction series follow young characters coming of age in space-faring organizations, learning about the threatening universe and making tough moral decisions. Unlike the Ender Wiggin books, each book in the Jupiter novels features a different cast. -- Kaitlyn Moore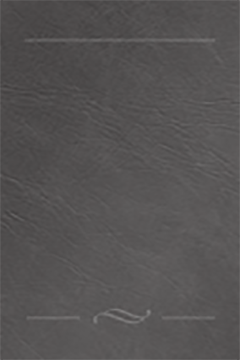 These series share: the genres 'Hard science fiction' and 'Science fiction' and the subject 'Space warfare'.
These series share: the genres 'Hard science fiction' and 'Science fiction' and the subject 'Space warfare'.
These series share: the genres 'Hard science fiction' and 'Science fiction' and the subject 'Space warfare'.
Reader Reviews
★☆☆☆☆ Wow
By sponge0209 on Thu, 19 Aug 2010 02:46:30
Aliens have attacked Earth twice and almost destroyed the human species. To fix this problem and to make sure Earth doesn't get destroyed again, the government has taken to training kids to be in the army. Ender Wiggin is a genuis because he wins all the games. This book was required reading for my sister's school and I read it with her but I honestly could not understand why. This book sucks.
★★★★★ READ THIS READ THIS READ THIS READ THIS READ THIS
By frodo/echopaw on Sun, 21 Feb 2010 21:43:49
Ender's game is an absolute MUST READ! The story is absolutely gripping, and you can feel every single gut-wrenching feeling that the main character gets! Unexpected twists, haunting "Games", deadly truths and the BEST cast of characters EVER will keep you hooked. I'd reccomend it for upper middle school readers, though... choicy words are used! But no matter! This amazingly crafted story is about a young boy named Ender who struggles and triumphs in Battle School- a space school for the elite in mind and body, and for those training to fight the Buggers, (aliens who had almost destroyed the earth twice). Ender is the only hope for humanity... but will he be able to face the eadly truths and secrets about the school... and himself? INCREDIBLE, UNFORGETTABLE, SCI FI BOOK! If you read it the first time, you'll probable be gripped by the thrilling action, and if you read it a second time, you'll probably understand the deeper meanings, and see what a truly, beautifully sad book this is about human nature. I was both having panic attacks and crying as I read this novel... metaphorically speaking, though I did cry. You HAVE NO IDEA what you are missing if you have not read this book!!!!
★★★★★ Among the Best Sci-Fi ever written
By Joe42 on Sat, 04 Oct 2008 19:36:07
Most of the story is the best stuff I've ever read.
★★★★★ Enders Game more like book of the year!
By I love you too! on Tue, 09 Sep 2008 18:58:46
I think Enders Game was a cool book. It talked about troubles, fighting, and lots of sci-fi. I could persaude anyone to read it. Like my friend, she disliked sci-fi but now she enjoys reading it!
★★★★★ Best Book EVER!!!
By I love you on Tue, 09 Sep 2008 18:53:52
This book was the most detailed sci-fi book I have read! I could picture everything in my head. I love the topic of the book also! I would recommend Enders Game to ANYBODY I see!
★★★★★ Not just any sci-fi book!
By IM on Sat, 12 Jul 2008 07:31:51
Ender's Game is not just an ordinary science-fiction novel, it would peak the interest of anyone. Orson Scott Card does a wonderful job of blending human psychology, adolescent troubles, with the responsibility of the fate of the human race on your hands. Truly an excellent book and one of my favorites!
Professional Reviews
There are no professional revews for this title.
Additional Information
There is no additional information for this title.