Item Details
Subjects:
Genre: Thrillers (Fiction)
ISBN:
9780316225984 (hardcover)
9780316225984
0316225983
Edition: First edition.
Description: 405, 31 pages ; 25 cm
Notes: "Introducing Detective Renée Ballard"--Jacket.
Link to PAC
Other Items In This Series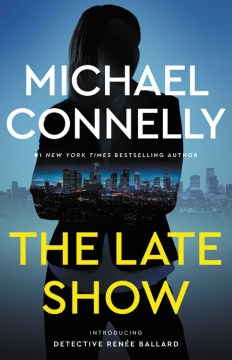 Renee Ballard works the night shift in Hollywood, beginning many investigations but finishing non…
Reader Reviews
★★★★☆ The Late Show
By Patron34293 on Mon, 21 Aug 2017 10:59:23
Michael Connelly, famously known for the Lincoln Lawyer and Harry Bosch detective series has made the courageous move to create a new series with a protagonist that is female and young. Renee Ballard works the Late Show (the 11pm to 7am shift) at the LAPD as a result of her unsuccessful attempt to bring her former boss, Lt Olivas, to task for his unwanted sexual harassment of her during her tenure in his department. She is young enough to still be enthusiastic about her job unlike her partner whose sole mission is to do his time and be home in time to assist his ailing wife. On a routine shift, the pair start the night with a call about a credit card theft which Renee knows will get dumped into the overflowing caseload of detectives working the robbery department. The next call finds them at the site where a young prostitute who has been savagely beaten and is barely holding onto life. Shortly after that grisly call they receive another about a multiple shooting at a dance club where 5 people are gunned down by an unknown assailant. Renee is eager to delve into these cases but the requirement of the 'Late Show' team is to write up reports and hand the case over to the day squad. The desire to be a real detective is too much for Renee and she bucks department protocol to begin a journey through the underbelly of society and those whose job is to protect it.
★★★★★ The late show
By Fantum on Tue, 18 Jul 2017 19:00:22
A new Bosch is born. Det. Renee Ballard takes up where Harry left off. Nearly as gritty as Harry's cases, and the brass don't like her much either. And as in all good mysteries, we don't know who the stinky fish is until the end.
Professional Reviews
There are no professional revews for this title.
Additional Information
There is no additional information for this title.